Date modified 06 jul 2019
A shadow over mankind
The story of our parents.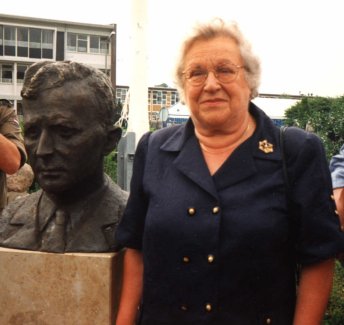 Betty in 1992, when she revealed a statue
of Johannes Post at the Johannes Post
kazerne in Havelte.
Betty Trompetter, a remarkable lady
Betty was born on 27 February 1917 in Hoogeveen as Betsij Henriette, child of her Jewish parents David Joel and Rosalie Trompetter-Van Wijnbergen. In this regional center in the province of Drenthe, her father had a tailor's workplace in the Schutstraat and shop in the Hoofdstraat and was a successful businessman. Alas, his success could not be prolonged. When the Germans occupied the Netherlands, all Jewish property was confiscated. Early October 1942, Betty's parents and two brothers were arrested in Hoogeveen. They and later also her sister were deported to Westerbork and from there to Eastern European concentration camps. At the time, Betty was living in Amsterdam, where she was employed as nanny. A German acquaintance adviced Betty a hiding place in a pension in Ugchelen, where she met her future husband Albert van der Harst. That same German lady brought her in contact with resistence fighter Johannes Post. He persuaded her to move to another hiding place, in Rijnsburg, and she decided to join the resistence. She became a messenger for the famous Johannes Post, who also was from Drenthe. During this period she carried the name Tineke van der Laan based on data from the registry office of Oud-Beijerland. As messenger she smuggled falsified personal identifications and weapons by train throughout the country. As member of Johannes Post's group she was involved in the attack on 15 july 1944 of the police station at the Weteringschans in Amsterdam, an attempt to free fellow resistance fighters. The operation failed due to betrayal, most involved resistance fighters were caught and put to jail. The key persons were executed shortly afterwards, including Johannes Post. Betty was sent to the concentration camps Vught, Ravensbrück and Dachau, as political prisoner - her Jewish background remained secret to the Germans. She survived the horrors of the camps and married Albert shortly after the war. Of her family, only her sister Henny had survived the camps.
Despite of the suffering she had been subjected to during the war Betty hadn't lost faith in humanity. On the contrary, after the war she travelled throughout the country to maintain her contacts with friends and knowns. She remained to be a warm personality and had an optimistic view of life till her death.
In Coevorden a street was named after her.
Ria van Geest, a caring mother
Ria van Geest was born in 1928 in Delft as daughter of Maria Wijnants and Gerrit van Geest. In this working class family she grew up together with two stepbrothers, one stepsister and one younger brother - her parents were remarried as widow and widower.
As teenager she was confronted with the war:
- during the first days, the fights for the airport Ypenburg were very closeby
- her stepbrothers could not escape from the "Arbeitseinsatz" in German factories
- in the last war winter her father travelled throughout the country in search for food.
In the years after the war she worked as secretary for the KLM airlines.
At 27 August 1953 she married the architect Wim van den Bos and as a consequence had to stop working (these days this was usual in many professions, a woman had to quit her job after marriage). She deeply regretted to stop working, as she lost many friends.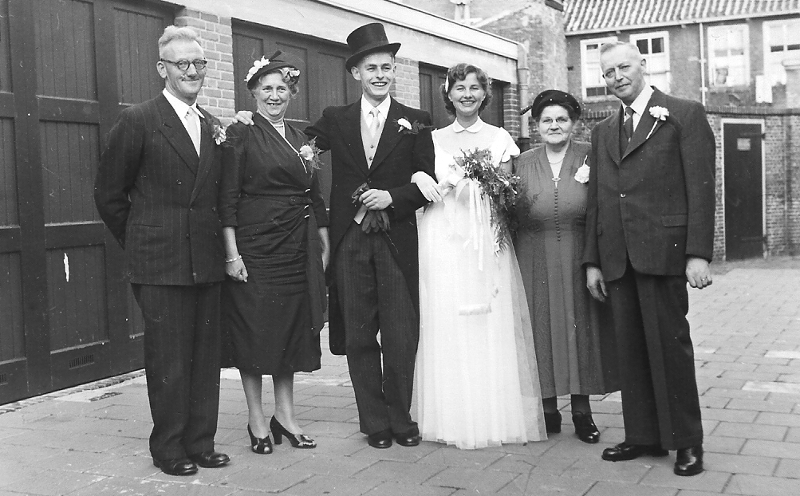 Ria and Wim with their parents, in 1953, shortly after their wedding.
Two sons were born from the marriage, Frank and Hans, whom she raised with love.
Ria had a warm personality, the care for her family always prevailed. When her sons had left the house, she started working part-time again. At elder age she took care of a help-demanding neighbour.
Personally, she helped me take a number of crucial decisions during a dark period in my life. These all have worked out well.
A brain hemmorage made a sudden end to her life, she died after having been in coma for more than a week, one day before the celebration of her 50th wedding anniversary.
Wim van den Bos, a gifted architect
Wim van den Bos was born in 1926 at the Beestenmarkt in Delft as son of Elisabeth Knip and Willem Johannes van den Bos. He was the youngest of four children, with two sisters and one brother.
During the war he went in hiding at a farm owned by relatives, in Groningen. Shortly after the war he completed the MULO and was allowed to go to the HBO in Amsterdam, an artistic school for architecture. Gerrit Rietveld and Karel Appel gave lectures there.
In the early fifties he completed his study and started working as an architect for Romke de Vries in the Hague. He was involved in numerous construction design projects for offices in Rijswijk, the Hague, Rotterdam and some housing projects throughout the country.
In the mean time he had met Ria van Geest. They met at a tram stop, Ria was commuting to her work for the KLM in the Hague, whilst Wim was commuting to his work in the Hague.
They settled at 37 Acacialaan in Rijswijk. In the late sixties he started his own business, the family moved to 36 Mauritslaan which was a much bigger house. The top floor was dedicated to his work. Later we moved to 16 Rotterdamseweg, an even bigger house which had space for a co-worker. Most of the jobs concerned renovations of private houses and shops, mainly in the vicinity of Rijswijk.
After his retirement, Ria and Wim moved to Voorburg, he started painting and became an active member of a group of amateur archeologists. After Ria's death he started a new relation. In the early days of 2014 he died by euthanasia after a serious and irreversible degradation of his condition.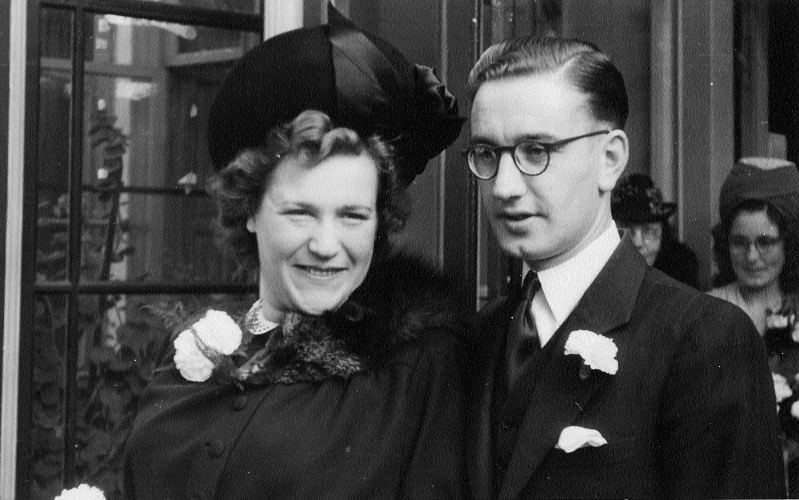 Betty and Albert at their wedding, in 1945.
On the right, behind Albert, you can see his sister, Elisabeth, who married on the same day.
Albert van der Harst, a loving husband
Albert Henry was born in 1916, in the middle of the First Worldwar, but Holland was hardly affected by this war. His mother Mary Stevens, was English, his father, Dominicus Petrus, Dutch, they lived in The Hague, where his father was employed in the hotel branch.
In 1921 Albert got a sister, Elisabeth. At home English was spoken, but the children went to Dutch schools, thus were raised bilangually. Short after the childrens births the family moved to the Lindelaan in Rijswijk. Albert visited the Ottoburgschool, just like his later daughter Henny and son-in-law Hans.
During the Second Worldwar he went in hiding for the Arbeitseinsatz. He found shelter in a pension in Ugchelen where he met his later wife Betty Trompetter. Because the address was unsafe, Betty moved to a shelter in Rijnsburg, whilst Albert went back home, where he hid till the war ended.
When Betty returned to Holland in 1945 from Dachau, she immediately went to Albert's home. Albert received her full of love, they married and were assigned a house in the Ieplaan. He became a bookkeeper for the Nationaal Spaarfonds in The Hague, where he was employed till his retirement. Next to his work he was a fanatic tennisplayer and hobby-photographer. At an older age, his knees became painful. They moved to the Belvédèreflat, a service flat for older people. Together they enjoyed life for a number of years there, full of social activities. When Betty got ill, he cared for her during a number of years, but was unable to deal with her death, in 2003. In 2008 he moved to the Westhoff nursing home, where he died at the threshold of 2015.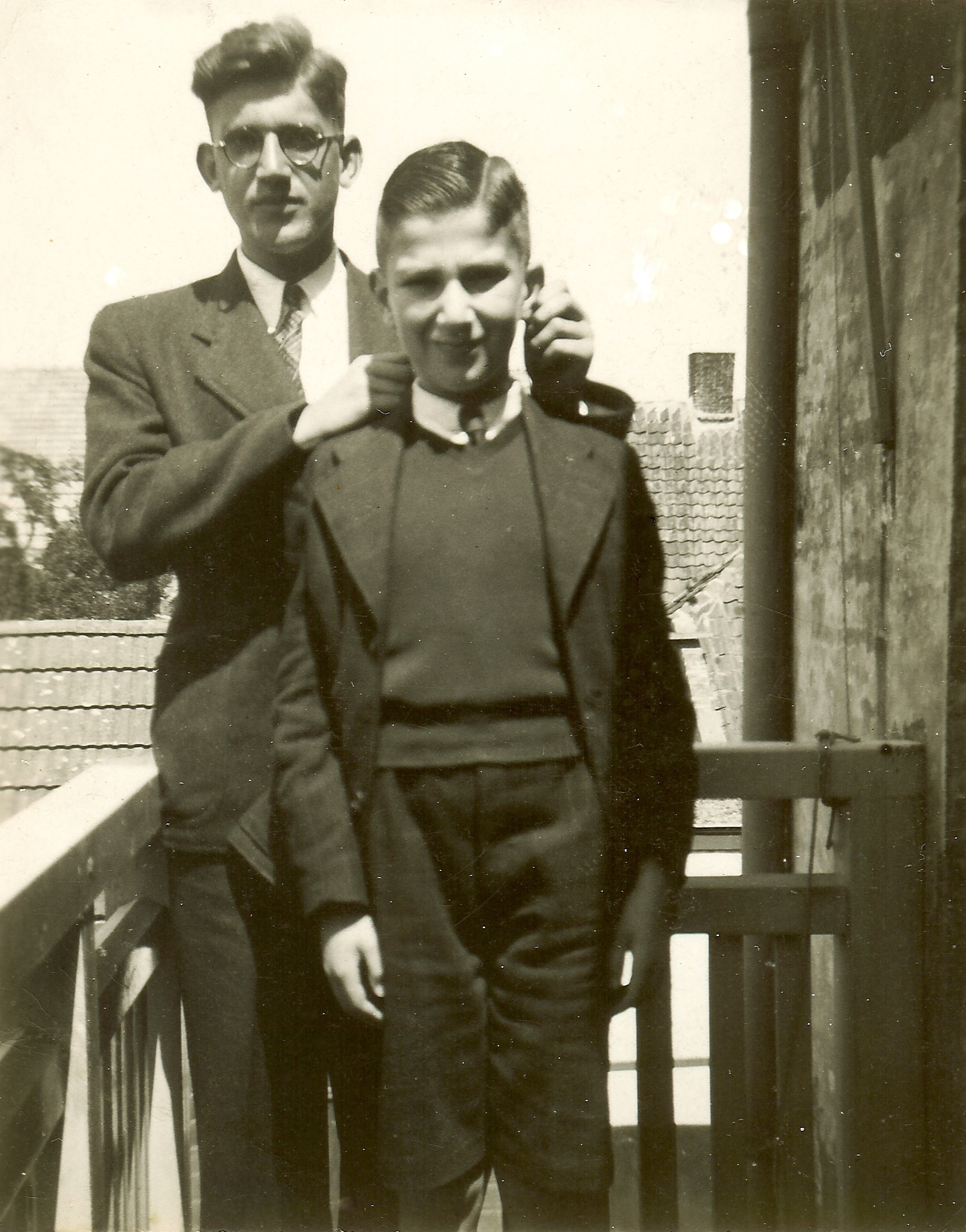 Joël and Bram short before the war
The fate of David Joël, Roselina, Joël and Bram Trompetter
The members of the Trompetter family who were living in Hoogeveen - Bram, Joël, Roselina and David Joël - were arrested in the night of 2 to 3 October 1942. Together with about 160 other Jewish inhabitants of Hoogeveen they were taken to camp Westerbork. Nearly a month after their arrival in Westerbork they were sent by train, in a carriage intended for goods or cattle, to Nazi-Germany. They were part of "transport 33", which departed at 2 November 1942 from Westerbork. At 5 November the train reached Cosel (80 km West of Auschwitz) where the men in age between abt 16 and 50 had to get out, amongst them Bram (age 15) and Joël (age 20), all others were deported further to Auschwitz where nearly all of them almost immediately were gassed, amongst them Roselina and David Joël.
Based on data obtained from the Red Cross we can conclude that Bram and Joël were deported from Cosel to labour camp St.Annaberg and from there probably to one of the labour camps in Gleiwitz where they must have arrived in the midst of November 1942. Finally at the end of March 1943 they were deported to labour camp Blechhammer.
About Joël we don't know more than that he has worked for 15 months under circumstances totally inhuman, after which he died estimated at 17 March 1944 in, or close to Auschwitz (maybe he died at Blechhammer, but it seems that he was sent to Auschwitz shortly before his death). - At about that time Blechhammer became a sub-camp of Auschwitz and was called Auschwitz IV, from that moment the camp was organised like the other Auschwitz camps which implied that the camp management was now in the hands of the SS.
For Bram the Red Cross has indicated that he died at 21 January 1945, which is after 27 months of forced labour and is the start date of a horrible death march for all prisoners from camp Blechhammer to camp Gross-Rosen. In the freezing cold, under snowy conditions, they were forced to walk in 7 days 200 km westward to camp Gross-Rosen (see:
Blechhammer
). Prisoners who could not keep up the pace or attempted to escape were killed by means of a neck-shot by the SS guards...
An impressive book has been published about the experiences of a 16 year old Jewish boy who came from Antwerp and was subject to almost exactly the same cruelties as Bram (who was 15 years) and Joël, but who survived, and which for a big part handles about camp Blechhammer:
Survival: The Story of a Sixteen-Year-Old Jewish Boy
By
Israel J. Rosengarten
IN MEMORY
143 People have died in concentration camps carrying the name TROMPETTER (by themself or their husband).
Of them at least 43 are related. Here are their names, followed by the name of the concentration camp where they have been murdered.

David Alexander Trompetter, at Auschwitz
Johanna Trompetter-Lam, at Auschwitz
Helena Mol-Trompetter, at Auschwitz
Rosetta Pinheiro-Trompetter, at Auschwitz
Sara David Trompetter, at Sobibor
Flora Alexander Zilverberg-Trompetter, at Sobibor
David Gerrit Trompetter, at Sobibor
Louisa Trompetter-Bremer, at Sobibor
Aaltje Mozes Polak-Trompetter, at Auschwitz
Hartog Mozes Trompetter, at Sobibor
Mozes Hartog Trompetter, at Auschwitz
Vogeltje Trompetter-Hammelburg, at Auschwitz
Henri Mozes Trompetter, at Auschwitz
Nico Mozes Trompetter, at Auschwitz
Johanna David Trompetter, at Sobibor
Henriette David van Oosten-Trompetter, at Auschwitz
Henderika Heiman Lezer-Trompetter, at Sobibor
Rachel Heiman Cohen-Trompetter, at Sobibor
Salomina Heiman van Delft-Trompetter, at Sobibor
Gerson Hijman Trompetter, at Auschwitz
Saartje Trompetter-Haas, at Auschwitz
Hijman Gerson Trompetter, at Auschwitz
Sientje Trompetter-Brandon, at Auschwitz
Gerson Hijman Trompetter, at Auschwitz
Rebecca Hijman Kesner-Trompetter, at Auschwitz
Mozes Hijman Trompetter, at Auschwitz
Johan Sigfried Hijman Trompetter, at Auschwitz
Mozes Gerson Trompetter, at Auschwitz
Lea Kokernoot-Trompetter, at Auschwitz
Gerson Mozes Trompetter, at Auschwitz
Mozes Gerson Trompetter, at Auschwitz
Lea Hijman de Vries-Trompetter, at Sobibor
Mozes Hijman Trompetter, at Sobibor
Lazarus Mozes Trompetter, at Sobibor
Catharina Lazarus Trompetter, at Auschwitz
Bettje Lazarus Trompetter, at Auschwitz
Schoontje Frankenhuis-Trompetter, at Sobibor
Klaartje David Trompetter, at Auschwitz
Vrouwtje Simon Trompetter, at Auschwitz


David Joel Trompetter

, at Auschwitz


Roselina Trompetter-van Wijnbergen

(wife of David Joel), at Auschwitz


Joel Trompetter

(son of David Joel and Roselina), at Auschwitz


Bram Trompetter

(son of David Joel and Roselina), at Blechhammer

Monument in the former camp Westerbork commemorating all Dutch Jews and Gypsies who didn't survive the concentration camps

Other relatives who were murdered:


Eva Leiser-van Dantzig, at Auschwitz
Benjamin Leiser (husband of Eva), at Auschwitz
Margaretha Hilsum-van Dantzig, at Sobibor
Andries Samuel van Wijnbergen, on street in Moordrecht
Joseph Leo Zwecher, at Blechhammer
Moses Zwecher (father of Joseph Leo), at Auschwitz
Taube Zwecher-Berhang (mother of Joseph Leo), at Auschwitz
David van Dantzig, at Auschwitz
Wilhelmina Jacoba van Dantzig-Catz (wife of David), at Auschwitz
Louise Catz-van Dantzig, at Auschwitz
Abraham van Dantzig, at Auschwitz
Anna van Dantzig-de Kadt (wife of Abraham), at Auschwitz
Albert Joseph van Dantzig, at Auschwitz
Eva van Dantzig, at Sobibor
Hermina Cato van Dantzig-van Dantzig, at Auschwitz
Marianne van Gelder-van Dantzig, at Sobibor
Hanne van Dantzig-van Gelder, at Sobibor
Sibbeltje van Dantzig-van Gelder, at Sobibor
Vroukje van Gelder-van Dantzig, at Sobibor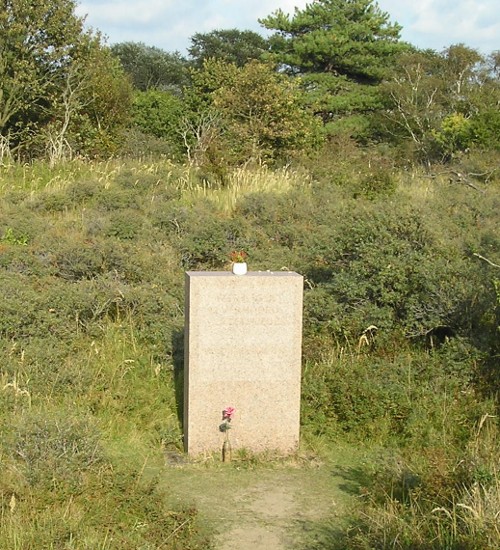 One of the memorial stones in the dunes near Overveen.
Historical context
For the Netherlands the second world war was a war after ages of peace. Like in the first world war the country tried not to be involved, but Germany had other plans. From May 1940 till May 1945 the country was occupied by Germany. The Dutch population has suffered seriously from this, particularly during the last years of the war.
Resistence was organized, but the total number of people involved in the resistence remained probably less than 10,000. There still is an annual remembrance at the place where 215 resistence fighters were executed, in the dunes of the Waalsdorpervlakte, near Den Haag.
Shortly after the war, the bodies of 422 executed people - mainly resistance fighters - were found in the dunes near Overveen and Bloemendaal, amongst them Johannes Post.
The Germans were retaliating all acts of resistence to innocent Dutch civilians. For instance, after an assault on SS- and police commander Rauter, close to the Woeste Hoeve near Apeldoorn, 117 innocent Dutch people were executed. After a similar assault near Putten, 100 houses were burned and all 616 men from the village were sent to German concentration camps, 552 of them didn't survive.
Starting from 1942 almost 400,000 Dutch men were forced to work in German factories, the "Arbeitseinsatz". (Arbeitseinsatz was also the excuse to arrest Jews and send them to so called work camps). In 1944 the Germans even started organizing razzia's to arrest Dutch men for this purpose.
When in 1944 the allied forces decided to move on directly towards Germany, leaving the biggest part of Netherlands under German occupation, this resulted in a terrible hungerwinter for the population. Being cut-off from all food resources, people started wandering for food. About 15,000 people starved from hunger.
Despite of this, we have to conclude that the role of many Dutchman is a dark page in our history. More than half a million people more or less collaborated with the Germans. Many Dutch policemen were directly involved in the razzia's for Jews. All almost 100 rail deportations of Jews to the concentration camps completed as scheduled.
To me this makes clear that many people involved in the attrocities must not have been aware of their own responsibility for the consequence of their deeds.
Dutch resistence became more important in the last two years of the war, after the Germans started organizing razzia's for the Arbeitseinsatz and most Jews already had been murdered.
Sure it is easy to judge afterwards, and sure it took a long time before people must have started to realize that the Jews were being massacred, but still it is painful to determine that of the total Jewish population in Netherlands more than 75% did not survive the war. This percentage is one of the highest of all countries involved in WW2.
What has been revealed by the Holocaust is that the increased organization of mankind in the 20th century could not only be a powerful instrument to build a better world, but could also become an instrument to commit unprecedented crime.
Let the Holocaust be a very important lesson to be taught to our children which tells us that every individual should always be held responsible for his own deeds. And:
Let's set us the objective to help each other, irrespective of ones race, religion and sexual preference.